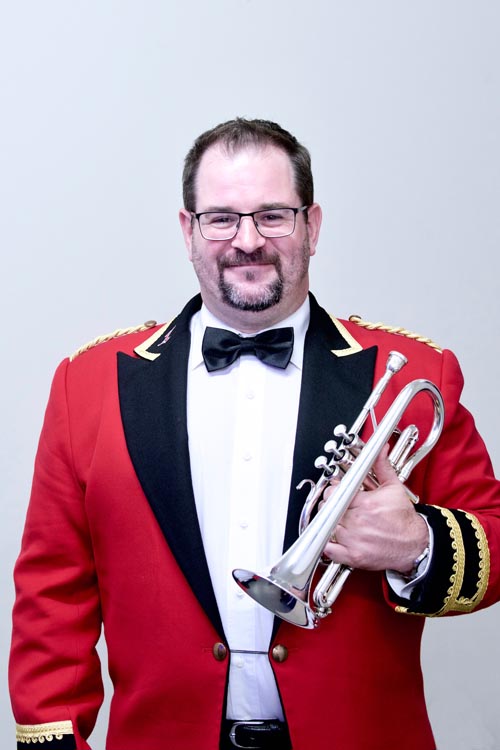 Tony Lashmar is a versatile performer on the trumpet. His experience and engagements span a diverse variety of music from Latin and Jazz through to Orchestras and Musical Theatre.  Tony has also been involved in a number of recording and performance projects involving popular artists, chamber ensembles, brass bands, world music and new music.
After finishing high school, Tony enrolled in the Bachelor of Music Performance at the Queensland Conservatorium of Music, Griffith University where he studied trumpet from Yoram Levy (TSO).  While there, Tony also studied with Glen Madden (ASO), Jonathan Fields and John Hoffman.
After graduating, Tony commenced study in the Graduate Diploma in Education program at the University of New England majoring in Secondary Music Methods.   Tony then went on to study a Master of Education program at the University of Southern Queensland in Toowoomba majoring in Education Technology.  While studying for his Masters, Tony also completed the Advanced Postgraduate Conducting course at USQ and gained a high distinction.
Tony has been teaching music in schools since 1995 and has been with his current employer "Education Queensland" since 1998.   He works as a Senior Instrumental Music Teacher, teaching woodwind, brass and percussion instruments.  He also conducts Concert Bands, Jazz Ensembles and smaller chamber and percussion groups.  Many of Tony's ensembles have received top awards at music festivals.  In 2014, Tony organised for his students to tour to New Zealand to participate in the "Rhapsody Rotorua International Music Festival"
Hailing from a proud brass banding family, Tony has always maintained his involvement with the Brass Banding movement both as a cornet player and a conductor.  He currently performs with the Brisbane Excelsior Band playing Solo Cornet.  While he has been with the band, the band has achieved the following; Australian National Champions (2008, 2010, 2014, 2016), New Zealand National Champions (2008), Queensland State Champions (2009, 2011, 2012), FABB Australasian Open Entertainment Champions (2010) and FABB Australasian Open Champions (2011).
Tony also toured with the Brisbane Excelsior Band to England in 2009 to compete in the British Open Brass Band Championships.  In 2010 at the FABB Australasian Open Entertainment competition, Tony performed the Australian premiere of the solo "Blue Mars" (James McFadyen) with the band. In 2014, Tony toured with the band to China to perform in the Shanghai Tourism Festival Parade.