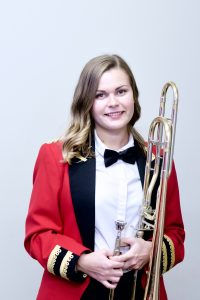 Vilde Gaupholm is a trombonist from Norway, who came to Australia in 2015 to study at the Queensland Conservatorium of Music. Vilde learns from Queensland Symphony Orchestra Principal Trombonist, Jason Redman.
Vilde grew up in the brass band movement and played with her local youth brass band Tertnes Skoles Musikkorps (Norwegian Champions multiple times) from she was 6 until she was 19 years old. Alongside the youth band, she played her first National Championships with Tertnes Brass (A grade) when she was 13 years old. She has also played with bands like Haukaas Musikklag (B grade), Oster Musikklag (B grade) and Manger Musikklag (A grade).
In Norway she was taught by Manger Musikklag Principal Trombonist, Irene Graven, as well as former Eikanger Principal Trombonist, Grethe Tonheim and current Eikanger Principal Trombonist, Vidar Norli.
As well as playing in the Brisbane Excelsior Band, Vilde is the Principal Trombone in the Queensland Philharmonia Orchestra. She is also active in several ensembles at the con, including the Big Band, Trombone Ensemble, Symphony Orchestra etc.
Her future aspirations are to become an orchestral trombonist and a trombone teacher.