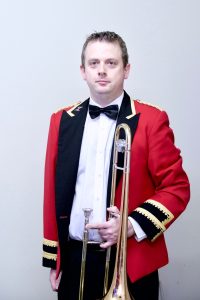 Marc Nethercot was born in Leicester, UK, and started playing the trombone at the age of 7 for the Ratby Co-Operative Band organisation. By the age of 17 Marc was principal trombone for a national band course while learning a lot in the championship section and he decided that playing the trombone was much more fun than real work.
Marc moved up to Huddersfield in Yorkshire to complete a bachelor's and master's degree in music.
In Yorkshire, the heart of the brass band world, Marc was lucky enough to play with some of the best players and bands on Earth. Brass bands, orchestras, shows, it was great to have everything on the doorstep! Musical travel to most of Europe, Singapore and New Zealand were the icing on the cake.
After graduation, Marc moved to Melbourne, VIC, and swapped the trombone for a stick, quickly gaining a solid reputation as a conductor and teacher, leading a community band to their first contest in 13 years and grabbing lots of silverware on the way. A year later there was a move to Auckland, NZ, followed by even more conducting and teaching, but through a quirk of fate Marc ended up as a manager in a hospital. Music making had to take a back seat but Marc still had the honour of playing trombone for Dalewool Auckland Brass under the legendary Nigel Weeks.
After 7 years, in 2015, Marc moved to Brisbane where he now works as a project administrator for the state government and tries his best to keep up with the high performance standard at XLCR!