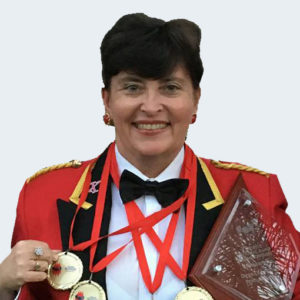 Kerry Vann is a versatile musician who maintains a busy schedule teaching percussion, singing, piano, and theory. She is an examiner in music and regularly travels throughout Australia and Asia examining and adjudicating.
Kerry has played with Brisbane Excelsior Band since February 2015. She has been the principal percussionist of the Brisbane Philharmonic Orchestra since 2001 and has also played with many other groups including the Queensland Pops Orchestra, the Gold Coast Symphony Orchestra, Brisbane Symphony Orchestra, the Bach Society Orchestra and every Queensland Youth Orchestra including what is now the Queensland Youth Symphony.
At the 2016 Australian National Band Championships, Kerry was awarded Open Champion Percussionist, winning all four solo sections for percussion: mallet percussion, timpani, snare drum and multiple percussion.
As a singer, Kerry sang with Opera Queensland for ten seasons and had her own solo recital series from 2007 to 2014. She has been a guest artist with several groups including the Queensland Pops Orchestra, St Lucia Orchestra, the Brisbane Philharmonic Orchestra , QUMS and the Brisbane Excelsior Band. She has also sung many leading roles in operetta for local musical theater companies.
Kerry holds ten degrees and diplomas: eight in music, one in languages and one in education. These include a Ph. D. in music from The University of Queensland and she is a Fellow of the Trinity College London in voice.
In her 'spare' time Kerry loves to travel, swim, walk, play golf and is a member of the board of directors of 4MBS classic FM. She adores cats and is an arctophile (teddy bear collector), sharing her home with approximately 640 bears. Kerry's current ambition is to visit the pandas at the Adelaide zoo.