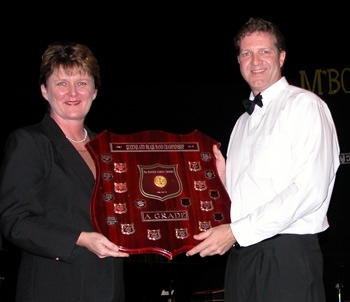 Howard Taylor being presented with the Baxter Family Trohpy for the Champion A Grade Band, by Maryborough Deputy Mayor Julie Arthur
Brisbane Excelsior, under the musical direction of Howard Taylor, has won the QLD State A Grade Championship held in Maryborough, June 11-13. The band won the Hymn, Test Selection and Stage March sections.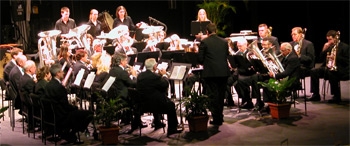 Windsor Brass with conductor, Dale Hosking
Windsor Brass, led by Howard and Dale Hosking, performed admirably on the weekend also, this being their first time in the B Grade section. They received 3rd in the Hymn Tune and Stage March.
The XLCR percussion section won Best Percussion Section at the "Best of Brass" Gala Concert as well as for the Parade of Bands.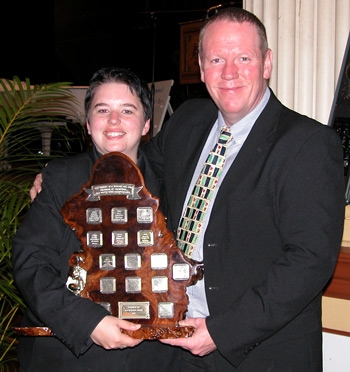 2005 QLD Champions of Champions, Paula Russell with adjudicator Simon Kerwin
Excelsior were also convincing leaders in the solo events with the band claiming 9 individual titles. These were:
Julia Russell – Novice Upper Brass (closely followed by Mark Nettle and Kelly Clarke-Flesser from Windsor Brass)
Imelda Moore – Under 19 Any Other Instrument
Imelda Moore – Junior Champion of Champions
Dale Hosking – Open Soprano
Paula Russell – Open Bb Cornet
Paula Russell – Champion of Champions
Amanda Casagrande – Open Flugel and Champion of Champions runner-up
Steve Ridler – Open Horn (VERY closely followed by Imelda!)
Brad Hosking – Open Baritone
Stuart Bent – 2nd Open Trombone
Julie Woods – 2nd Eb Bass
Allan Lonergan – 3rd Eb Bass