In keeping with its meteoric rise through the ranks, Windsor Brass has notched up another Victory at the Nambour Contest, held October 29 & 30.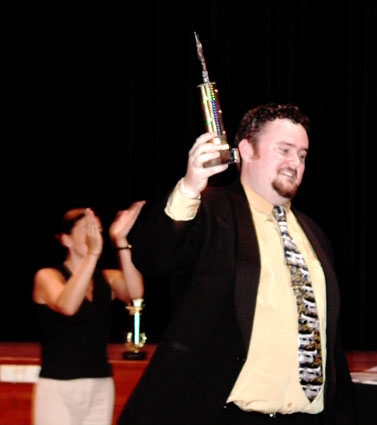 Dale Hosking holds up the winning B Grade trophy
Photo courtesy of Melanie Gregory
Having been regraded from C Grade to B Grade only recently, Windsor Brass won the B grade section of the competition with Dale Hosking as MD. The band came first in the Concert Program and had to settle for second place in the Hymn Tune by the narrowest of margins. Overall, Windsor Brass ended 3 points ahead of the nearest rival, Bundaberg, thereby clinching the B Grade title.
Also successful on the weekend was the Windsor Brass Quintet consisting of Mark Nettle, Cathy Spratt, Ros Shaw, Allen Clark and Daniel Allen, narrowly beating the contigent from XLCR – who will no doubt be reminded of this for quite some time!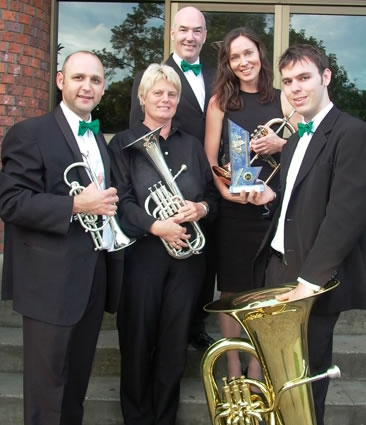 Windsor Brass winning quintet – Mark Nettle, Ros Shaw, Allen Clark, Cathy Spratt, Daniel Allen
Photo Courtesy of Melanie Gregory
Along with soloists from Windsor Brass, several soloists from Brisbane Excelsior also competed in the contest even though the band did not compete.
Windsor and XLCR result summary:
Dale Hosking 1st Soprano Cornet XLCR
Paula Russell 1st Open Cornet XLCR
Brent Hoy 2nd Open Cornet XLCR
Mark Nettle 4th Open Cornet Windsor
Steve Ridler 1st Open Tenor Horn XLCR
Imelda Moore 2nd Open Tenor Horn XLCR
Ros Shaw 3rd Open Tenor Horn Windsor
Julia Russell 3rd Open Tenor Horn XLCR
Allen Clark 1st Open Baritone Windsor
Michael Purtle 4th Open Tenor Trombone XLCR
Julie Woods 1st Open Eb Bass XLCR
Windsor Brass 1st Open Quintet
XLCR 2nd Open Quintet