Brisbane Excelsior – 2007 Australian National A Grade Champions
Excelsior and Howard Taylor have won the National A Grade championship for the third year in a row. The contest was held over the Easter weekend in Ivanhoe, Melbourne.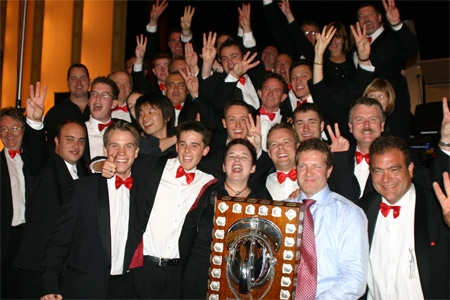 Brisbane Excelsior win hat-trick
In a strong field of 16 bands, XLCR claimed first place in the Hymn Tune, Test and Own Choice Selections.
The trombone section were named the Best Section in the A Grade test by the adjudicator, Ken MacDonald and were awarded the 4barsrest Downunder Award.
Bass Trombonist Matthew McGeachin again excelled by winning both the Junior and Open Bass Trombone solos for the second year in a row.
Other successful soloists included:
Paula Russell – 2nd Open Cornet
Steve Ridler – 2nd Open Horn
Stuart Bent – 2nd Open Tenor Trombone
XLCR in the Own Choice Selection