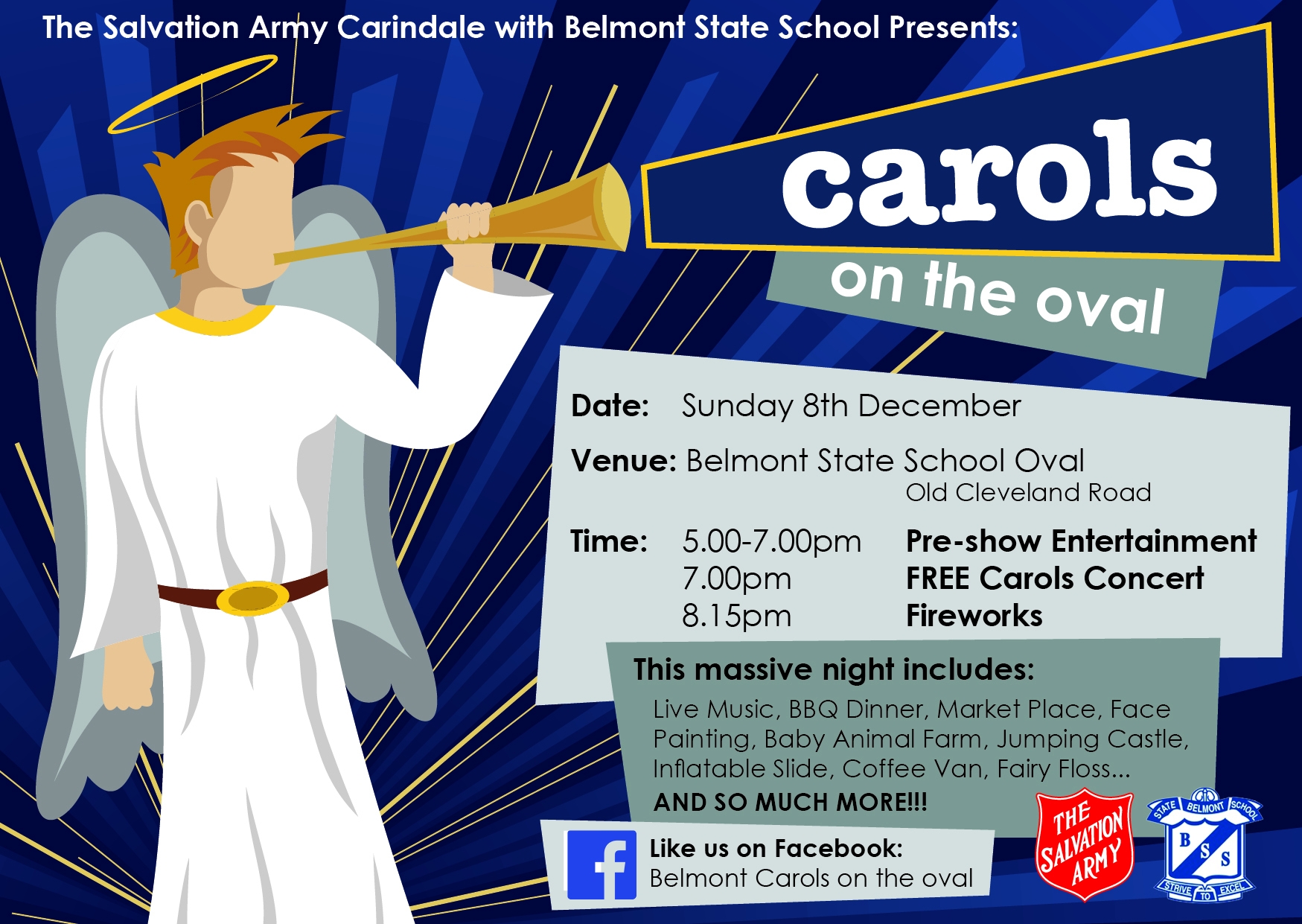 Carindale Salvo's present 'BELMONT CAROLS ON THE OVAL'
*A free event to kick of the Christmas season*
The Salvation Army Carindale, in conjunction with Belmont State School, is set to once again present 'Belmont Carols on the Oval' in 2013. This annual event is to be held at Belmont State School Oval on Sunday 8th December. 'Belmont Carols on the Oval' is set to include special guests such as Blindside Quartet, Brisbane Excelsior Band, Adam Lopez and Iain Henderson, along with a fun filled sideshow alley, great food and a firework spectacular to end the night in style.
This year, 'Belmont Carols on the Oval' are proud to feature local artists and community groups as part of the pre-show entertainment line-up, starting at 5.00pm. This includes such local talent as Blindside Quartet, an emerging a-capella group from Brisbane, and the famous Brisbane Excelsior Band, the most successful brass band this country has ever seen. There will also be fun to be found for all ages in the sideshow alley boasting jumping castles, giant inflatable slides, market place, face painting, baby animal farm, BBQ, fairy floss and much more.
The night only gets better with the main Carols event starting at 7.00pm, featuring Adam Lopez (Guinness World Record Holder for largest vocal range), and young emerging Queensland Opera tenor Iain Henderson. Hear carols performed and played by The Carindale Salvation Army band and choir, and feel free to sing along. The night concludes with a cracker of a fireworks display!
This FREE event is open to all ages, so grab a picnic rug or chair, and get yourself down to the Belmont State School oval to enjoy a night of festive fun under the stars.
Details
5:00pm – 8:30pm
Sunday 8 December 2013
Belmont State School Oval; Old Cleveland Road, CARINDALE, 4152
More Info
www.facebook.com/belmontcarolsontheoval
www.salvos.org.au/Carindale