Victory Dinner
Saturday 7th May 2005
Mercure Hotel
85-87 North Quay Brisbane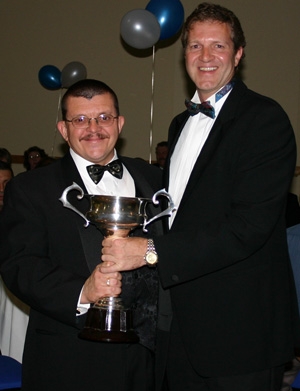 Bandsman of the Year – Brad James being presented with the trophy by MD Howard Taylor
The evening was set – dinner suits, cocktail dresses, fine food and wine, the Fireman's helmet and 86 distinguished looking bandsmen and their spouses and partners, dignitaries, special guests and friends.
The inaugral Brisbane Excelsior Dinner Dance was a fantastic night which will hold memorable moments for many people. The evening, which will be an annual event as a Presentation Dinner, was held to celebrate the recent National Championships win. People in attendance included the band members and their spouses and partners, a patron of Brisbane Excelsior – Dr Dan O'Donnell and his wife Marion, the President of the NBCA – Geoff Fry and his partner Jean, the President of the QBA – Dr Noel Cassels and his wife Karen, special guests from the Brisbane City Council, 6 Life members of the Association, Barrie and Paula Gott, the Marching Girls, and many of our "Friends of Excelsior".
Master of Ceremonies for the Evening was Mr Trevor Stanley who opened the evening and welcomed everyone to the event in fine style. Barrie Gott led the guests in a pre-dinner prayer and the evening progressed from there.
Following dinner, President Rick Casagrande, delivered the Presidential address to the guests. This speech, delivered together with a slide show prepared by Amanda Casagrande, was very moving in places and covered many aspects of the events and history leading up to XLCR's victory this year. A copy of the speech can be downloaded here.
Musical Director, Howard Taylor, then presented the awards for the evening. Past cups won by the Brisbane Excelsior Band dating back to the early 1900's were used as trophies for the individual awards. Recipients of the awards were as follows:
* Most Improved Player: Ben McLeod
* Best Section: The Horns (Steve Ridler, Amanda Casagrande, Samantha MacIntyre & Imelda Moore)
* Player's Player (voted by the band members): Ashley Gittins
* Best Bandsman: Brad James
A presentation was also made to Howard Taylor from the bandsmen in appreciation of his leadership.
Following the formal part of the evening, dancing and general socialising mixed with a little bit of drinking (more for some than others!) followed. Thanks go to Julie Woods, ably assisted by her husband John, for providing the music for this.
Special thanks must go to Meg Fixter who co-ordinated the evening and also to those who donated prizes for the raffles and door prize – Edmund Park Outdoor Centre, Cathy from Cinque Hair Design, Mercure Hotel and Charlie from Castlemaine Perkins.