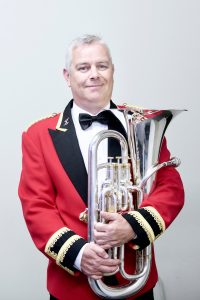 Nigel has been principal euphonium of the Brisbane XLCR band since 2012
Originally from the Rhonnda Valley, South Wales in the UK, Nigel starting playing the Euphonium aged 7 at his local Salvation Army and soon developed his potential through the local school and county youth band system.
By the age of 14 Nigel was principal euphonium of the 1979 Champion Youth Brass of Great Britain, the highly successful Upper Rhondda School Band, following their highly commended performance at the Royal Albert Hall in London.
In 1983 Nigel joined his local brass group the Parc and Dare Band enjoying a period of 13 years with the band winning 5 champion band of Wales titles and representing Wales at the European Brass Band Championships in Edinburugh, Scotland 1984 , Cardiff 1986 and Lucerne Switzerland 1988.
In 1996 Nigel accepted an invitation to become principal euphonium of the world famous Cory Band, following in the footsteps of his father and grandfather.
Success soon followed, culminating in the band winning the 2000 British Open Championships at the Symphony Hall Birmingham England under the direction of Dr Robert Childs, Nigel's contribution to the performance on the day being recognized by being awarded the Stanley Wainwright trophy for the best soloist in the competition.
Just 6 weeks later the band went on to complete a historic "double" by winning the National Championship of Great Britain at London's Royal Albert Hall, a truly remarkable feat achieved by only 3 other brass bands in the history of the movement.
Following a short break from the band in 2002, Nigel returned in 2003 to form a formidable partnership with world famous euphonium soloist David Childs, their winning performance of  Phillip Wilby's         "Revelation" at the 2003 European Championships in Bergen, Norway receiving particular acclaim.
Work and family commitments saw Nigel relinquish his position in the Cory Band in 2006 prior to emigrating to Australia in 2010.
Since arriving in Australia Nigel is proud to be part of the success at Brisbane XLCR band, being crowned champion band of Australia in 2013, 2014 and 2016.
Nigel is married to Rhiannon and they have 3 teenage children.
In his professional life Nigel is employed as a project manager by international gas and cryogenic company the Linde Group.
Nigel would like to take this opportunity to thank his wife and family for their love, support and commitment over the years.