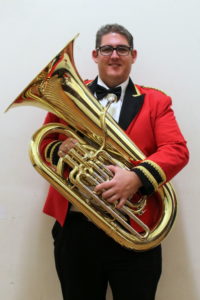 Gareth started learning brass on Cornet as a young teenager, later joining the academy of New Zealand's most well-known band, Woolston Brass. Gareth moved on to Tuba at the age of 16 and rapidly progressed through the academy band making his competitive debut in 2002 for the then NZ Champions Woolston Brass. In his first National Contest with Woolston, the band won its third consecutive New Zealand Championship.
Gareth was selected as a member of the National Youth Band of New Zealand touring USA, and UK in 2003 and was subsequently selected for the National Band of New Zealand later that year. Gareth was lucky enough to be selected for the National Band once more in 2005, completing a major European Tour culminating in at the World Music Concourse at Kerkrade, The Netherlands.
After the 2005 National Band tour, Gareth was offered the opportunity to move to the north of England to join The Fairey Band on Bb Bass. After a successful year at Faireys, Gareth moved on to join the Fodens Band where he met his now wife, Louisa, who played Cornet in the band. During his time in the UK, Gareth played in many tours, major contests and events with the main highlight being winning the 2006 English National Championships with Fodens.
Having returned to New Zealand for a short period in 2008, Gareth joined the Dalewool Auckland Brass on Bb Tuba before choosing to settle in Brisbane later in the same year. Gareth joined Brisbane Excelsior on Bb Tuba in late 2008 and made a move to Eb Tuba becoming Principal Tuba of the Brisbane Excelsior Band in 2012. Gareth played a part in four Australian Championship wins in his time with band.