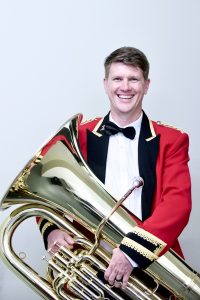 Steve began playing tuba in 1986 learning through the local brass band – Cairns Combined Schools and Citizens Band (Cairns Brass). The brass band provided a solid foundation which was supported throughout Steve's school years.
Being exposed to dixieland jazz by secondary school instrumental teach Steve was fortunate to begin gigging regularly around North Queensland while playing while still having the support of the brass band fraternity.
At age 15 Steve was encouraged to pick up a bass guitar. This opened up a number of new opportunities in music, such as gigging in corporate covers and originals rock bands, playing jazz fusion and playing in a number of musicals over the years.
Over the years Steve competed at many Queensland State Band Championships with Cairns Brass at both A and B Grade levels. Cairns Brass competed well at the State level, but at their first Nationals in 2001 the band was successful winning the B Grade section.
Moving to Brisbane in 2004 Steve joined the Brisbane XLCR Band going to his first nationals competition with an A Grade band in Launceston. Steve continues to play with XLCR and regularly gigs with local indie rock bands.