Katrina Marzella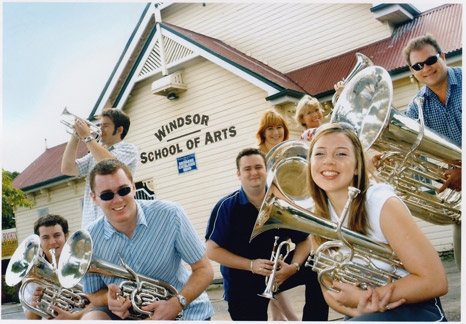 This 'wee lass' entered our lives on February 25, 2004 and her influences made an enormous impact on so many of us.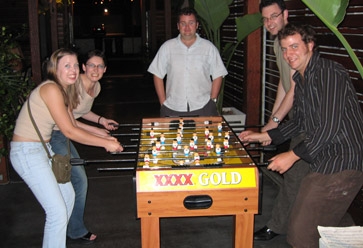 Katrina's Baritone playing, attitude and personality were sensational in so many different ways.
From her playing of Sun (Bruce Fraser) to that eerie, emerging "F" in Cambridge Variations, to the skill she showed whilst 'tubing' in Moreton Bay, Katrina will never be forgotten that is for sure.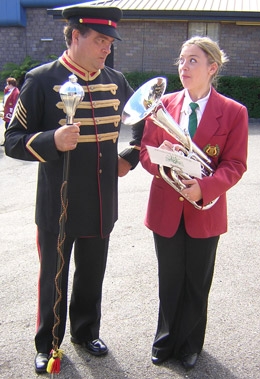 We would love to have Katrina back VERY soon. Here's hoping.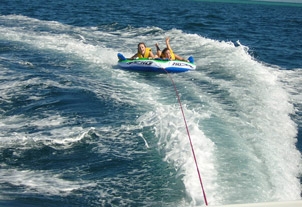 Good luck back in Scotland, Katrina.
Katrina Marzella…….XLCR salutes you!
---
Martin Ellerby

A week after our performance of Chivalry at the National Titles in Launceston, 2004, Martin Ellerby, the composer came to our rehearsal back in Brisbane at the Windsor School of Arts.
This amazingly talented composer talked and conducted his way through Chivalry with us. To have heard directly from the composer the thinking and inspiration behind this work was a very worthwhile and unique event.
His version of adjudication for the test selection event in Launceston was also very interesting.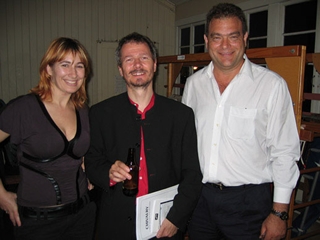 Martin Ellerby pictured with Julie Woods and Rick Casagrande
---
Brett and Sarah Baker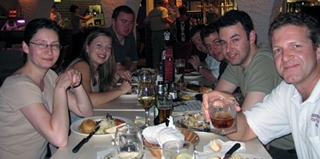 How brief this visit seemed to be, yet the great time we had with this awesome couple will be remembered for a long time.
Brett and Sarah flew in on a Sunday late in March 2004. Fresh from the plane, Brett rehearsed with us, in preparation for a concert the next day. His professionalism was admired by all.
That evening, Brett agreed to give informal adjudication to those soloists who were playing in Launceston at the Nationals in the coming weeks.
This proved to be invaluable. To help show our appreciation, a few of us took Brett and Sarah to 'the local'. Early to bed that night – as we all had to be in form for the concert the next day.
Brett and Sarah will be joining us again in 2005 – we can't wait!
---
Lieutenant Colonel Robert Redhead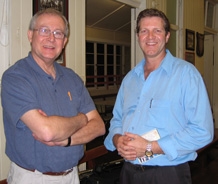 With the help of Rodney Everitt, we were very fortunate to have had this wonderful composer and musician pay a visit to our rehearsal. The Lieutenant Colonel was inspirational as he conducted us through two of his masterpieces – Reflections and Isaiah 40. To have been able to hear some of thoughts behind his composing was fascinating to say the least.
---
Roger Webster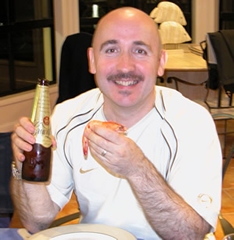 Roger Webster is forced to drink Crown and eat prawns upon his arrival in Brisbane after travelling for 2 days!!
Without a blink – he finds the time and energy to spend time with Georgia and Cameron Hoy.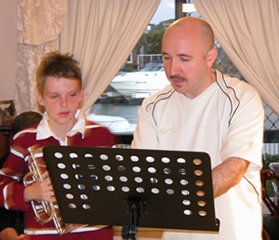 Roger Webster and Georgia Hoy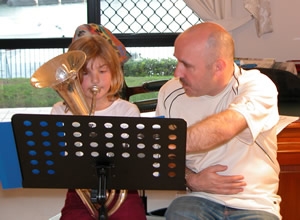 Roger Webster and Cameron Hoy
Thanks Roger, enjoy your time in Oz!!
---
Russell Gray
We are so grateful to have the services of this wonderful player and musical director on what almost seems like a regular basis. Russell is pictured here working with the cornet section of Brisbane Excelsior.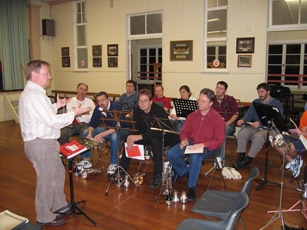 Russell and his lovely wife, Mareika, are again in Australia.
Russell is extremely busy as he undertakes short trips around Australia and New Zealand to run and partake in various concerts and workshops.
Russell will feature in the Lord Mayors Gala Concert in City Hall, August 14. Tickets available from August 3 from Ticketek.
Russell is pictured below rehearsing an item to be played at this concert. Ashley Gittins is conducting whilst cornet players include Howard Taylor, Ben Beavis, John and Edward Kennedy and our own Rodney Everitt.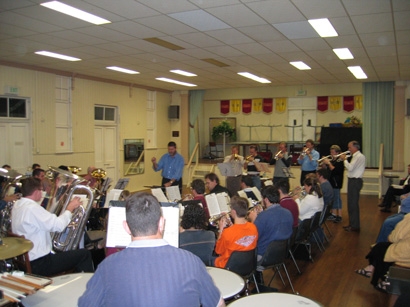 ---
Bryan Hurdley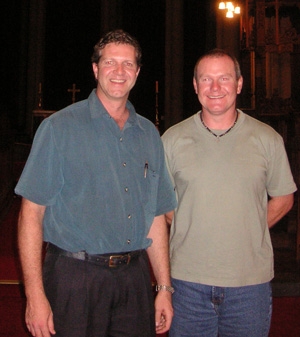 Brisbane Excelsior were fortunate to have the services of Bryan Hurdley, to help in their preparations for Cathedral Brass, to be held at 7-30pm Saturday November 13 in St Johns Cathedral.
Led by XLCR's musical director Howard Taylor, this concert is a hugely anticipated event both musically and socially with 4 players from New Zealand and one from Sydney joining us on the concert platform. Riki McDonnell, Kevin Moseley, Kevin McMorran, Gordon Lang and Ken Bradley have each decided to have a small holiday and have timed it to coincide with Cathedral Brass!
The program for the evening is both intensive and extensive. Major works to be performed by the band and Christopher Cook on organ, include Boellmann's Suite Gothique, Finale from Saint-Saens Symphony No 3, and Jerusalem by C Hubert Parry. Other items include a Brassed Off segment, Variations on Laudate Dominum, Toccata in D Minor, Procession of the Nobles, Cornet Carillon, and a spot featuring Riki McDonnell on Euphonium.
Proceeds from the concert will go towards the completion of St Johns Cathedral and the establishment of Windsor Academy of Brass.