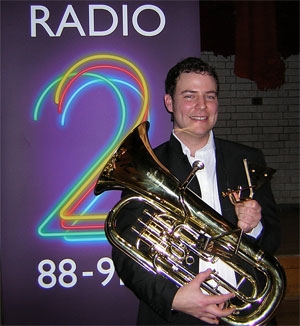 Brenden with the 'gong'
Hear Brenden play in the Grand Final at:
http://www.bbc.co.uk/radio2/events/brasssoloistcomp/?focuswin
We spoke to Brenden an hour after the announcement that he had won the BBC Brass Musician of the Year, 2005!!! Brenden was absolutely beside himself with happiness!
Sporting a new suit and a haircut, Brenden played 'Flight to Sparta' from 'Three Worlds' by Peter Meechan and 'The Holy Well' by Peter Graham and was accompanied by Black Dyke. The first of these pieces is extremely demanding – technically. Brenden said, "The first thing I did when I finished playing was to ring my Mum and tell her how happy I was with how I played. Regardless of the result, I was so satisfied because 'I nailed it'!. To win was a bonus."
At the end of Brenden's performance, he received a standing ovation which went on for so long that Frank Renton had to go back stage, find Brenden, and bring him back onto the stage to acknowledge the ovation.
Mick and Cathy Wheeler are equally stoked. "Any doubts we had about sending Brenden to the UK have gone."
I was going to write a paragraph or two on Brenden's lead up to the BBC Young Brass Musician of the Year final….but I think Brenden does it best in his reply email where I asked him for a few details. His email says…..
Hiya!
Just nursing a bad hangover this morning from man uniteds 4 2 victory… 🙂 regretting it this morning though………..
The final is the 19th of feb with black dyke at the royal northern and the semi finals are broadcasted on the 18th and 25th of feb on bbc radio 2 listen to the band program at http://www.bbc.co.uk/radio2/shows/listentotheband/ and the final is broadcasted on the 4th of March……….. The final stage is a proper concert and it will be announced at the concert who wins… just a first place and three runner ups…….. i'm playing New Order:Flight to Sparta and The Holy Well…….
theres a dodgy photo on the bbc site at
http://www.bbc.co.uk/radio2/events/brasssoloistcomp/gallery/
and i'll attach a few more to this….. don't know if you want a fun one or a serious one so i'll attach a couple in the hepworth uniform……..
got to run to band now… hope i've covered it all let us know if theres anything else……. wish i was coming away…… it'd be a fantastic trip…… don't do anything i wouldn't do!!!!
Cheers….
Brenden
p.s. looking for photos but can't really fine many that you could put on the web for public viewing hehehe…….. only 2……..
Brenden at his best!!
The Brenden that we know and love after his Scottish Open win with Hepworth