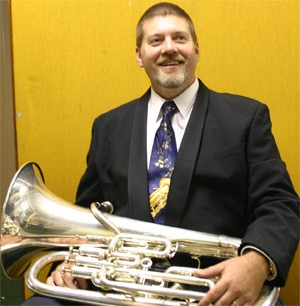 Ashley Gittins 2005 Australian National Champion of Champions
For the second year in a row, Ashley Gittins has won the Australian Euphonium Championship and has, this year, gone on to win the Champion of Champions. Playing Philip Sparkes "Party Piece", Ashley treated the audience including many of his collegues to two outstanding musical performances – entirely from memory.
In the Champion of Champions, Ashley had stiff competition in the form of 3 other Excelsior players who had also won their individual events – Dale Hosking (Soprano), Bernard Denlay (Bass Trombone) and Rick Casagrande (Bb Bass).
In the Junior Champion of Champions, Excelsior were also represented by Imelda Moore. Imelda won the Junior Tenor Horn Championship and was awarded 99 points by adjudicator, Barrie Gott.
Other soloists to perform included:
Steve Ridler – 2nd Open Tenor Horn
Amanda Casagrande – 2nd Open Flugel Horn
Stuart Bent – 3rd Open Tenor Trombone
Brad Hosking – 3rd Open Baritone
Rodney Everitt – Open Bb Cornet
Brent Hoy – Open Bb Cornet
Lyndon Weise – Open Bb Cornet
Allan Lonergan – Open Eb Bass
Imelda Moore – Open Tenor Horn
Brenden Wheeler – Open Euphonium