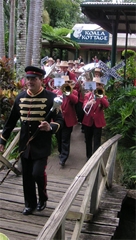 XLCR at the Buderim Ginger Factory
Saturday 25 June, saw Brisbane Excelsior head north to the Township of Yandina for the opening of a new feature ride at the Buderim Ginger Factory. Prepared for a march and short concert, the band were faced with a 'March with a difference'.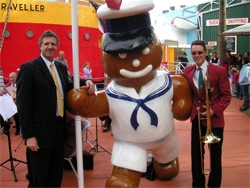 For 15 minutes, the band meandered its way through the Sunshine Coast tourist attraction, carefully negotiating its away across train tracks and garden beds.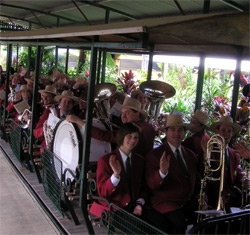 This was followed by a journey through the site seated on the tourist tram. Later in the day, the band gave a short concert accompanied by the gingerbread man!!
It was a great, fun day and the band is hopeful of returning to the Buderim Ginger Factory within the next 12 months.