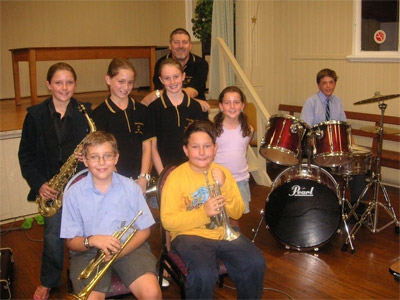 Members of the Windsor Academy of Brass with Director, Ashley Gittins
Established in early 2004 by Cathy Spratt-Bulloch, Howard Taylor and Helen Hoy, this group of young musicians is well on its way to becoming the third band in our organisation. Its first concert was held in June 2004 and several end of term concerts have been held since.
Junior Band/Learners Group 2004
Now that the Academy is established we are embarking on an expansion of the programs offered by the Academy and are encouraging children playing brass or interested in playing brass or percussion instruments in the local community to join our organisation. To achieve this, we are contacting local schools to provide them with information about the Windsor Academy of Brass and the programs offered by the Academy. If you are aware of any children who would be interested in joining, please let us know.
Academy Concerts
A mid term concert was held in the Windsor School of Arts, March 14, 2006. The progress this group has made in the space of 5 weeks was simply stunning.

Ashley Gittins with some of the Academy members, March 2006
The members of our Brass Academy performed in a concert which was held on the 7th August 2005 at the bandroom of the Sunnybank Band at 470 McCullough Street. The concert featured both our own Junior Band and the members of the Sunnybank No 3 band.
Prior to the concert both bands were involved in a players workshop lead by Ashley Gittins.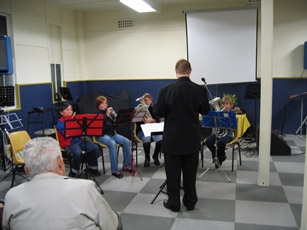 First Concert!
…a section of the group directed by Lindon Weise 2004
Past Tutors:
Cathy Spratt
Lindon Weise
Julia Russell
Helen Hoy