2006 Ern Keller International Brass Soloist of the Year
February 19
St Mary's Band Club, Sydney

Paula Russell is this years winner of the Ern Keller International Brass Soloist of the Year!!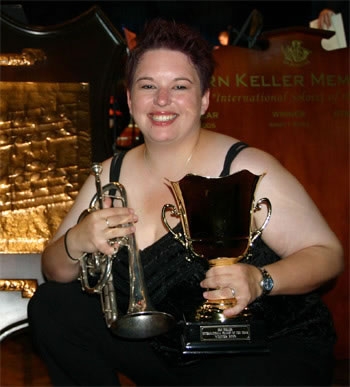 The standard of performances this year was simply outstanding. Nine champions from Australia, New Zealand and the UK gave incredible individual performances – each with strengths and weaknesses in different areas. There was no doubt, though, that they were all worthy champions in their own right.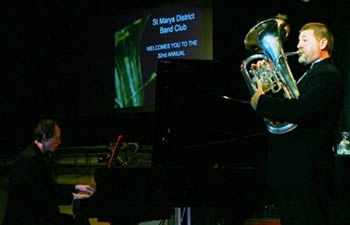 Ashley in full performance mode

Having said that, the day was a particular highlight for XLCR. Drawing No 1, Ashley set the scene for what was to be an amazing series of performances…..and Ashley's rendition of Glorious Liberation was just that – a true performance. He looked very handsome (!), played with confidence (and as is usual for Ash – without music), sensitivity and overwhelming musicality – so much so it bought tears to my eyes! Mitchell Leigh on piano played superbly – he was sympathic and certainly enhanced the performance.
Paula drew No 7. From the moment she walked on stage, we knew she meant business. Sporting a new outfit – Paula looked sensational! Playing Flight by Wilby, (written for Flugel Horn by the way – as if!!! – the range of this piece is impossible, for me anyway!), Paula's sound captivated the audience (and the adjudicator) from the first note. Paula's performance of this incredibly difficult solo was mesmerising. Although there were some minor blemishes which Paula would not have been happy with, the treatment of notes and phrases, brilliantly clear technique, and overall capture of the mood intended by the composer, were enough to convince adjudicator Ken MacDonald.
We are an extremely fortunate band to have such talent within our ranks. It was a proud day for those of us who travelled to Sydney to lend our support. Paula and Ashley – congratulations!!
Apart from picking up $1000 cash, Paula will be flown to the British Open Solo Championships in November of this year. Paula has now achieved one of her goals since arriving in Australia 2 years ago – well done, girl! Come November – go get 'em!
Another highlight was the performance of Gunnedah in the Band of the Year. Conducted by our own Howard Taylor, Gunnedah were awarded the 2006 Ern Keller "Band of the Year" – a title which has been held by Warratah for the past nine years. In an attempt to fill the void left by the departure of Jason Katsikaris to the UK, Gunnedah called in Howard to lend them a hand! Already superbly prepared by Laurie Rowe and Bruce Myers – the band was a pleasure for Howard to work with. During the trophy presentation, Jason was 'present' – even if it was only on the end of a mobile phone. In a controversial moment, Howard made a political plea for the rules to change to allow for the return of personnel such as Jason, who, under the current system of rules, is not permitted to return to conduct a band (such as his home band), as he is not the regular conductor – a rule which is in existance no where else other than Australia.
For more detail – watch for the next issue of ABW…