Presentation Dinner
Friday 28 July 2006
Mercure Hotel, North Quay
MC: Rick Casagrande
Entertainment: Mark Ham + Vibe (with guest surprise appearance – Julie Woods)
A cosy group of approx. 65 members, family and friends, attended this years dinner – an event which is now firmly cemented in our annual calendar.
With our patron Dr Dan O'Donnell and Mrs O'Donnell as special guests, the evening recognised the achievements and contributions given to the organisation by individuals, and included presentations, speeches and acknowledgements for us to reflect upon.
This years awards were:
President's Cup – for incredible contribution to the Association: Amanda Casagrande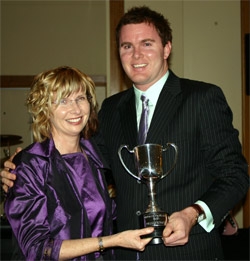 Amanda Casagrande with Brisbane Excelsior President, Allan Lonergan
XLCR Awards
Best Bandsman: Adrian Dadds
Players player: Stuart Bent
Best section: Percussion
Most improved: Sam Nester
Windsor Brass Awards
Best Bandsman: Gordon Cheal
Players player: Kevin Reid
Best section: Back Row cornets
Most improved: Daniel Allen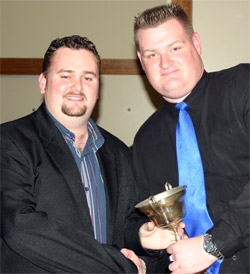 Best Bandsman (Windsor Brass) – Gordon Cheal with Dale Hosking
A particularly emotional moment was the realisation that Dale Hosking will be moving back to his home town of Townsville in the coming months. Dale has given so much to the organisation both as a player, conductor and general great guy. To say he will be greatly missed is an understatement.
Howard Taylor and Dale Hosking

OT Productions (Olivia Fung) presented an extremely clever, witty and funny media presentation on the years events through the eyes of Windsor Brass. This will be available for viewing here later in the week.
It was also a special night with our honorary members Riki McDonnell and Alexandra Kerwin joining us.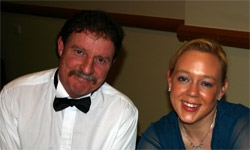 Alexandra Kerwin and Riki McDonnell
The ever sensational Mark Ham and his group, Vibe, provided superb dinner music and dance brackets which saw almost everybody take to the dance floor. Ben Crocker and Matthew McGeachin kept us totally captivated with their smooth suave dance moves!
Ben Crocker demonstrates his 'moves'
Huge thanks again to Meg Fixter who organised the evening for us. As they say – 'luv your work'!
Howard Taylor's address quoted excerpts from his annual reports in 2003, 2004 and 2005. It was hugely satisfying to analyse the progress the association as a whole has made. Goals have been set, and we have achieved those goals plus more. The 2007 Presentation Dinner – what will it bring? We have the goals – lets achieve them – again!