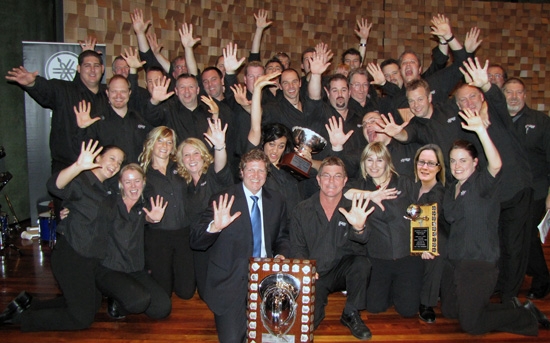 XLCR have brought the prestigious Fireman's Helmet back to Brisbane, winning the Championships – 16 points ahead of second placed Kew Band Melbourne.
This makes it a total of 5 National Championships won by the band since Howard Taylor took over the baton, allowing Howard to leave the band on a high.
From 4barsrest.com:
Return victory
The Queensland based band returned to the event this year after deciding not to defend its title in Sydney in 2009, following four successive victories at the contest.
The result brings to fitting close the highly successful 8-year tenure of Howard Taylor, who has decided to step down as MD following the championships.
Commanding win
Brisbane's performances of the set work, 'Extreme MakeOver', own choice selection of 'Dreams' by Bertrand Moren, plus hymn and march disciplines gave them a commanding 16 point winning margin over runner up Kew Band, with Brisbane Brass in third.
Large variance
The adjudicator Johan de Meij was complimentary about the overall standard of performances he had heard over the four sections of the contest, although a closer look at his markings (especially for his own set work) revealed a large variance in the points awarded.
Brisbane Excelsior gained 188 points for their performance of the adjudicator's own 'Extreme MakeOver', with Brisbane Brass some 8 points behind in second. Both Kew and Warringah Concert were a further 3 points further back in joint third.
Meanwhile, Footscray-Yarraville in 6th were 23 points behind the leaders, with Royal Agricultural Society of Western Australia Brass, who were placed 14th, a massive 34 points adrift.
Recovered deficit
Kew, conducted by Mark Ford, recovered some of the 18 point deficit they found themselves facing on the second day, when they produced a fine account of '…Dove Descending' to win the own choice section of the contest and come second to Brisbane in the march section.
However, Brisbane's 'Dreams' of a fifth National title under Howard Taylor's command were realised as they managed to end just 3 points behind their rivals on the own choice and take the March element by a point.
Brisbane Brass meanwhile could only manage 5th place with their own choice selection of 'Paganini Variations' and were placed 6th on the March discipline to end a single point behind Kew in third.
In the final placings, 4th was taken by Warringah Concert, with Glenorchy in 5th and Footscray Yaaraville, who won the opening 'Hymn' element of the contest in 6th.
1. Brisbane Excelsior, (42+188+184+46) = 460
2. Kew Band, (35+177+187+45) = 444
3. Brisbane Brass, (43+180+179+41) = 443
4. Warringah Concert Brass, (37+177+180+42) = 436
5. Glenorchy City Concert Brass, (35+161+182+44) = 422
6. Footscray-Yarraville City, (44+165+170+40) = 419
7. City of Holroyd Band, (42+175+162+37) = 416
8. South Brisbane Federal, (38+158+175+43) = 414
9. Hobart Brass Band, (36+161+178+38) = 413
10. Darebin City Brass – Preston, (40+157+177+39 = 413
11. K&N Spring Gully Brass, (39+160+165+36) = 400
12. Boroondara Brass, (40+162+159+33) = 394
13. Hawthorn Band, (42+155+160+35) = 392
14. Royal Agricultural Society of WA Brass, (34+154+158+34) = 380