The weekend began with an Excelsior domination of the solo events. In the Senior section, our members won the Soprano section (Dale Hosking), Flugel Horn (Amanda Casagrande), Tenor Horn (Imelda Moore from Brisbane Brass on permit but who is now a member!), Baritone (Brad Hosking), Eb Tuba (Mark Wheeler from Cairns Brass on permit!), Bb Tuba (Rick Casagrande), and in the Junior Cornet – Zaac Latter. In all, our two bands had 19 soloists entered. Mark Beilby, our accompanist for the day, was counted as performing 24 times!!
Howard Taylor was once again sensational in his leadership of Brisbane Excelsior and Windsor Brass over the weekend.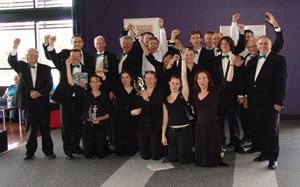 Windsor Brass were ecstatic with their wins in every section of the D Grade Competition held in Maryborough on the 12-13 June, 2004.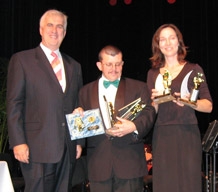 Windsor Brass D Grade Championship presentation
Jeff Herbert, the principle cornet for Windsor Brass, had an outstanding weekend. Not only did he lead the band to success, at 77 years of age, Jeff also performed twice in the solo events on the weekend.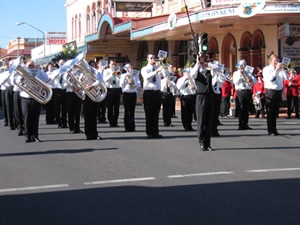 Jeff Herbert
They showed themselves to be the best not only on stage, but also on Parade as seen here – led by Cathy Spratt-Bulloch.