Brisbane Excelsior Band has returned home from the Australian National Championships in Launceston held over the Easter Weekend.
Amidst highly controversial adjudication issues and comments, Excelsior emerged with a third placing in the A Grade Test playing Cambridge Variations, a third placing in the Hymn (I Know Thou Art Mine), and 2nd in the A Grade Street March. Overall National A Grade Championship Placing – 3rd.
Howard Taylor (Musical Director) and Rick Casagrande (President)
We can also claim to be the highest placed Australian Marching Champion for the 2nd year running.
Brisbane Excelsior on the Street March
Our soloists performed extremely well with ten of our players entered. Ashley Gittins won the National Euphonium Championship whilst Katrina Marzella, who was playing with XLCR whilst on a University exchange from Scotland, won the National Baritone Championship. The entire eupho/baritone section and three out of our 4 tuba players competed. Apart from Katrina and Ashley, others to perform were Julie Woods, Allan Lonergan, Rick Casagrande, Stephen Pell, Brad Hosking, Brenden Wheeler, Bernard Denlay and Dale Hosking.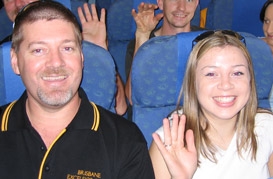 Ashley Gittins and Katrina Marzella relax on the plane journey home!