On the weekend of 17, 18, 19 September, Brisbane Excelsior went to Ghost Gum recording studios, Cannon Hill to record tracks for their first ever CD. Tracks recorded include Blenheim Flourishes, Breezin Down Broadway, Goff Richard's new composition American Trilogy, Old Rugged Cross, Praise, Be My Love featuring Ashley Gittins, Fever with Julie Woods on vocals, as well as Barrie Gott's arrangement Australians in Song. This particular track features vocals from the band as well as a 'guest' appearance by Mark Ham.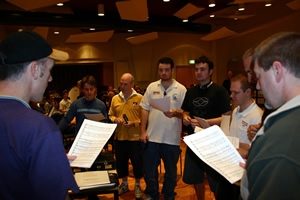 XLCR Recording session

Phil Johnson and Jason Katsikaris flew to Brisbane for the weekend to help out. Phil on Bb Bass from Woolston in NZ and Jason from Sydney on cornet.
XLCR Vocal group and Mark Ham
It is planned for the CD to be released before Xmas.