Nambour Festival of Brass, 2004
Windsor Brass, their first time contesting the C Grade section, achieved first place in the Concert program and Street March, and second place in the Hymn Tune, cementing their overall victory for the C Grade section which was contested by 8 other bands. In his debut conducting gig, an ecstatic Dale Hosking proudly ventured to the stage to collect the trophies for Windsor Brass. Adjudicated by Bryan Hurdley, this is truly an outstanding victory for Windsor!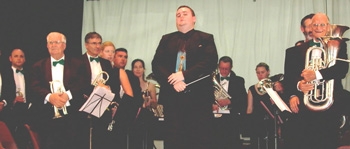 Windsor Brass conducted by Dale Hosking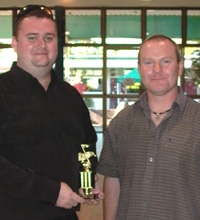 Dale Hosking and Bryan Hurdley
Other solo and enemble results for the weekend include:
U19 Any other Instrument – Imelda Moore 2nd
Junior Ballad – Imelda Moore 1st
Open Ballad – Dale Hosking 2nd, Cathy Spratt 3rd
Soprano – Dale Hosking 1st
Bb Cornet – Brent Hoy 1st, Paula Russell 2nd, Rodney Everitt 3rd
Flugel – Cathy Spratt 1st
Horn – Imelda Moore 1st
Eb Bass – Julie Woods 3rd
Ensemble – XLCR 1st, Windsor Brass 3rd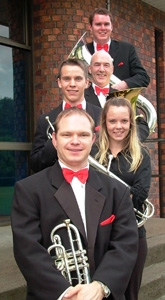 Brisbane Excelsior Ensemble – Lindon Weise, Imelda Moore, Ben McLeod, Allan Clark, Allan Lonergan
Brisbane Excelsior did not compete in the band events on this occasion.