2006 New Zealand Brass Band Championships
5-9 July, 2006
Dunedin
Brisbane Excelsior had planned to attend this contest as a band but due to the UK Tour, we had to forego the event this year. However, an enthusiastic representation from Brisbane Excelsior did attend the contest – Howard Taylor, Amanda and Rick Casagrande, Steve Ridler, Julie Woods, Lindon Weise, Paula Russell and John Szkutko.
Dunedin is a great city for a band contest. The town centre is concentrated in a very small area with lots of bars, cafes – which, as we all know, is one of the most important aspects! The accommodation is also in close proximity to all venues. The temperature was cold – but we all knew this and were adequately prepared. Even Julie managed to avoid the excess luggage bill on the flights – with her Tuba at 16kg plus clothes – I don't know how she managed!!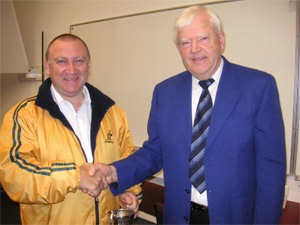 Steve Ridler – winner of the New Zealand Open Tenor Horn Championship, with adjudicator Rodney Sutton
Steve Ridler came home with the Open Horn Championship which was certainly well deserved. He played extremely well in what was a class field. Julie Woods came 2nd in the Open Eb Bass – a great result and again, another quality field. Amanda Casagrande came 2nd in the Open Flugel to current Australian Champion of Champions, Mason Elliott. Rick Casagrande came 4th in the BBb Bass, John Szkutko 6th in the Eb Bass, and special mention to Lindon Weise, who managed a very credible 5th in the Open Soprano – only 1 point behind one of the contest superstars, Colin Clark.
Steve Ridler, shattered that Gunnedah didn't want him to march, decided to take up a Street Collection instead!
One of the highlights for us was the outstanding playing by Gunnedah under the musical direction of our Honorary Member, Jason Katsikaris. With Paula as Principal Cornet and Steve Ridler on 2nd Horn (!), the band played with superb effect, precision and dynamic and were winners in both the Test and Own Choice selections. Woolston Brass took the A Grade Championship honours, however, due to the huge difference in scores between Gunnedah (90) and Woolston (98) in the Hymn Tune.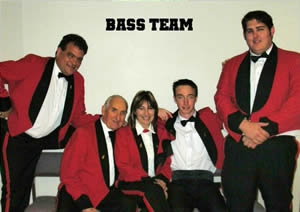 Julie and Rick with the Canterbury Foundation Bass Team
Rick and Julie built up the Bass section of Canterbury Foundation – Kev McMorrans band; Lindon played Soprano for Brass Wanganui and John helped out Porirua in B Grade.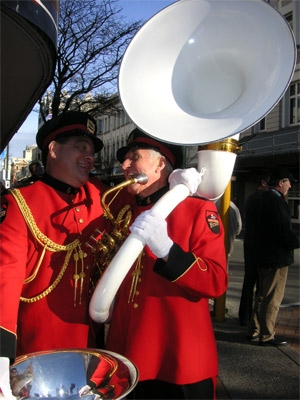 Rick Casagrande with tuba sensation, Bob Grimwood
The Band of the Year event, this year, had only two bands competing for the title – Woolston (the eventual winners) and St Kilda. The Poles Apart (Alexandra Kerwin and Riki McDonnell as soloists) concept band/NZ Allstars/Australasian/UK/Scottish band was formed to feature in this event this year. With the ubiquitous Howard Taylor at the front – this was quite an historic event. To have a band made up of members from 11 different bands across the globe was very, very special. Contest Manager, Helen Hoy, was seen beaming with joy closely followed by a couple of emotional tears. Also special was the effort everyone made to turn up to the 10am Sunday morning rehearsal! The playing wasn't bad either. Julie, Steve, Rick and Amanda were part of this group.
A thrill for me was to receive an invitation to play in the Invitational Slow Melody Event. I had fractured one of my lower vertebrate only a week before the contest. I did have doubt about competing but knew that an opportunity such as this doesn't come along every day – so I played and I am glad that I did. The extremely talented and musical Barry Brinson (piano) from Christchurch and the ever wonderful, obliging Kath Mosely (electronic organ – courtesy of Riki McDonnell) accompanied me in a James Curnow Publication of Holy, Holy, Holy. A real bonus was the following day when Barry and I played this piece again (albeit to ourselves!) in the Dunedin Town Hall using the large, impressive, symphonic Dunedin Town Hall Organ – what a sound it has and what a magnificent hall.
Amanda Casagrande – Photo from the Otago Daily Times
The Kiwi Nationals have always been an exciting and thoroughly enjoyable contest to attend – and this year was no exception. We look forward to Auckland in 2007.
Amanda Casagrande