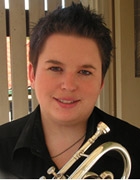 Amanda Casagrande writes for 4BRDU:
Paula Russell Paula Russell left Australia this morning to return to the UK in prepartion for the 2006 British Open Solo Championships, being held on November 11 in the Dukinfield Town Hall.
As a consequence of winning the 2006 Ern Keller International Soloist of the Year, the St Mary's Band Club awarded Paula the return trip to England. The win also included automatic entry into the British Open Solo Championship final.
Upon arrival in London, Paula will spend a few days reaquainting herself with her homeland before taking in the Nationals in Albert Hall on Saturday 28 October. She will then head up to Wales to link up with Austraian, Jason Katsikaris, who is currently conduting BTM. Paula will be sitting in the Repiano Cornet chair for BTM when they play Blitz at Pontins on November 4.
Then its up to Manchester for the lead up week to the Solo Championships. Paula has chosen to play Edward Gregson's Prelude and Capriccio.
Paula told 4BRDU yesterday: "I am very excited about returning to my old stomping ground, especially under these circumstances. I couldn't be happier with my preparation and am looking forward to playing my favourite piece."
Paula has been working on her performance with mentor, Trevor Bremner, prior to her departure.
The Brisbane Excelsior Principal Cornet player will return to Brisbane on November 20 after catching up with friends and family following the British Open Solo Championships.
Paula will be around for the Brass in Concert Championships if any band needs a cornet player! Just email Paula.