The Brisbane City Temple Band and Brisbane Excelsior joined forces last weekend 25 November, 2006 to present a concert , in support of the Papua New Guinea Koki Corps new instrument program.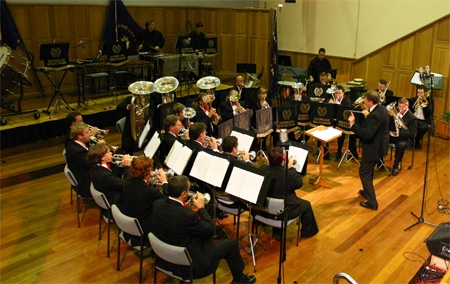 Entitled Classics to Contemporary, the concert was organised by the Brisbane City Temple as its annual band weekend.
Howard Taylor conducted both bands, and the evening featured a wide variety of works from the various musical periods.
Euphonium player Riki McDonnell and cornetist Kevin McMorran will re-unite with XLCR as they travel from New Zealand especially for the concert. Also helping will be Deb Geayley on horn from Christchurch.
The concert review can be found at http://www.4barsrest.com/reviews/concerts/con364.asp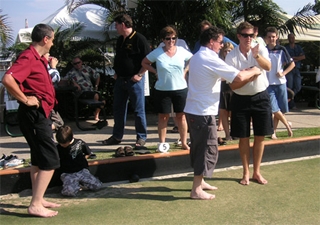 The blind leading the blind!
The following day, a few of the Excelsior members got together to relax and say thank you to our New Zealand guests – Riki and Lynda, and Kev and Deb. Lunch followed by a couple of hours of bare-foot bowling at the Merthyr Bowls Club, on the Brisbane River, was an enjoyable way to conclude the weekend.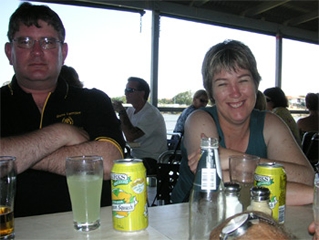 Kevin McMorran and Deb Geayley partaking in drinks of the softer kind