Our Christmas teams have been out and about spreading the message of Christmas in various locations around Brisbane.
A small group performed on Friday 2 December for the children at the Royal Brisbane Childrens Hospital Xmas party – sharing the entertainment spotlight with Australian Idol finalist, Bobby Flynn.
Howard Taylor made lots of sick children very happy as he shared around heaps of percussion instruments for the kids to play along to some upbeat Xmas music – he didn't even make any of them cry.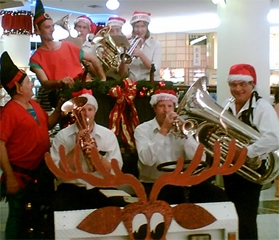 Pictured here is another group at one of the Brisbane Shopping Centres
Next weekend, 10 December, the combined bands of Windsor and XLCR will provide an all-day sausage sizzle and Xmas carols at Bunnings Carseldine.