Champion Brass on the Shore
Brisbane Excelsior in Auckland, July 2007
New Zealand National Brass Band Championships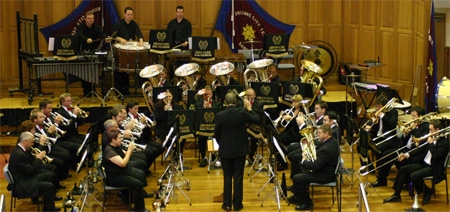 Brisbane Excelsior on stage – July 2007
Brisbane Excelsior ventured across the ditch in pursuit of another National Championship title. The band returned as the 2007 New Zealand National A Grade Champions having now the incredible achievement of 4 National titles in 3 years.
Brisbane Excelsior Celebrates 2007 NZ Championsip win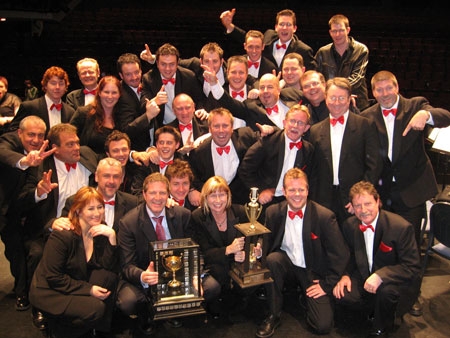 Less than three months since the band won its third Australian title in a row, XLCR set off again for another major contest.
Unfortunately Life Member and trombonist Trevor Stanley was unable to make this trip with us but he was certainly with us in spirit.
Another blow to the bands preparations was Ben Crocker who broke his arm the week before we were due to fly out of Brisbane.
We were very saddened not to have Trevor nor Ben playing on the stage with us.
Thankfully, Riki McDonnell agreed to step in at the last minute to fill Ben's spot. Riki, an honorary member of XLCR, was secure, reliable and his usual positive energetic self. The band salutes you Riki!
Other special guests included Scottish Super Soprano Steve Stewart, and Waratah cornet ace and all round nice guy, Conrad Curry.
Steve won many fans in this trip Downunder. His performances on stage were captivating.
The following is an article from 4barsrest:
Stewart takes Auckland by storm
Steve Stewart Scotland's soprano star makes a real impression in Auckland.
Soprano player Steve Stewart from the Kirkintilloch Band will travel home to Scotland after this weekend with a burgeoning branch of new antipodean fans after he produced two electrifying performances in helping Brisbane Excelsior to their National win.
Cheered to the rafters
The auditorium at the Bruce Mason Centre was literally buzzing after they witnessed soprano playing of the very highest class from the likeable Scot. The usually hard to impress Kiwis showed just what they though of his playing at the conclusion of the set work on the Saturday night when he was cheered to the rafters as he modestly stood to accept the acknowledgement of conductor Howard Taylor.
Stunning
Just minutes before he was the undoubted centre of attention both aurally and visually as he raced through his locker full of talents, stunning the hall with pyrotechnical high wire work in the test piece 'Music of the Spheres'. Earlier on the Friday he had shown the other side of true top class soprano playing with beautifully controlled playing in the sacred item and lyrical melodic work in the set test.
Great time
Steve thoroughly enjoyed the experience too. "I've had a great time with Brisbane Excelsior since I came out here to play. They have been wonderful and made me feel right at home. The two pieces are ones that I enjoy playing, so it was nice to be able to make a small contribution to the victory and repay the hospitality I have been shown by some great people."
Long queue
Fellow soprano star Martin Britt who played with the North Shore Band was one of the first people to congratulate Steve on his success. "Steve is a great player and really showed that here this weekend. We have both had a great time here and I am sure there will be a very long queue of bands wanting his telephone number for next year. He was stunning."
As one usually hard nosed Kiwi was heard saying with typical bluntness at the bar before the announcement of the results – "He bloody well nailed that didn't he!"
No higher praise indeed.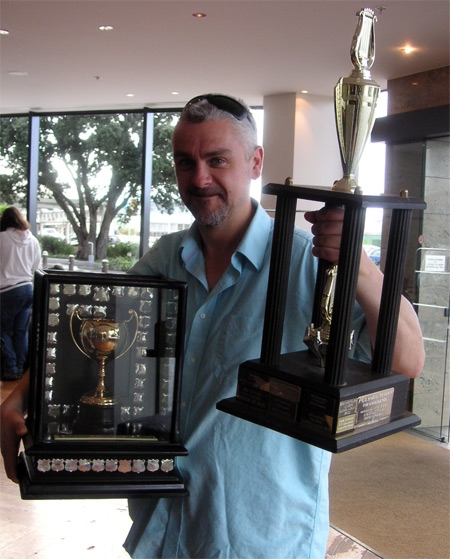 Excelsiors Performances
In many peoples opinion, the band played the best it ever has. The soloists in all three pieces were spot on. In this Quiet Moment impressed adjudicator Nigel Boddice so much for him to say, "I haven't heard playing like this for a long time."
The test piece, Concerto #1 for Brass Band by Derek Bourgeois forced many of us to face our musical demons, none more so than our conductor Howard Taylor. There was a huge sigh of relief and many smiling faces at the end of the bands performance.
Having chosen Music of the Spheres as our Own Choice, the challenge was to produce something better than we did in Brisbane 2006. We think we did.
Brisbane XLCR Marching NZ 2007
The Street March came and went without incident. DM Rick Casagrande and MD Howard Taylor decided to march the minimum number of players which was 15 brass. Waltzing Matilda was a hit with the three thousand people who lined the streets of Takapuna to watch the bands strutt their stuff. Probably our biggest success in this event was Matthew McGeachin managed to keep his hat on.
The Soloists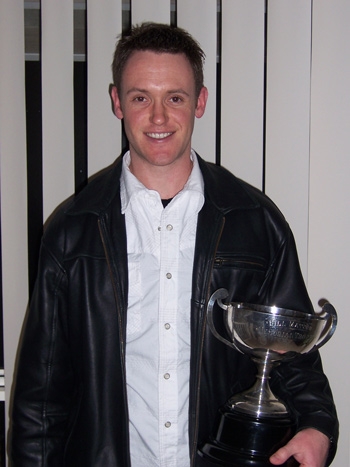 Stuart Bent – 2007 NZ National Tenor Trombone Champion
Eleven members of the travelling band entered individual solo events with Stuart Bent claiming the NZ National Tenor Trombone Championship. Stuart was the only Australian representative in the Champion of Champions.
Other placegetters were:
Amanda Casagrande, 2nd, Flugel
Brad Hosking, 2nd, Baritone
Matthew McGeachin, 2nd, Bass Trombone
John Szkutko, 3rd, Bb Bass
Thanks, Meg
The band is extremely grateful to Meg Fixter who again was instrumental in getting us onto the plane, organised our beds to sleep in; somewhere to rehearse; buses to the venue; flights home, and made sure we all had clean hankies!