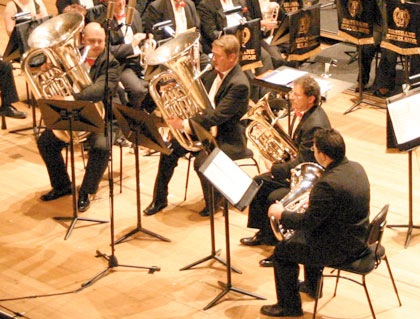 Brisbane Excelsior conducted by Howard Taylor has become the first Australian brass band since 1936 to win the New Zealand National Brass Band Championships.
In doing so they have created their own bit of history by becoming the first band from across the Tasman Sea to hold the famous New Zealand Championship Gold Cup and Australian National Fireman's Helmet Trophy in the same year. They are now without doubt the leading brass band in the Southern Hemisphere after adding this latest triumph to their hat trick of wins at the own National Championships.
Bitter pill to swallow
For the Kiwis it is doubly bitter pill to swallow after their national pride was dented by Australian rugby victory in the Bledisloe Cup Tri Nations last weekend. The All Blacks will be able to gain some revenge if they win their return match against the Wallabies next week, whilst their bands will have to wait until the Australian Championships to be held in Brisbane's own back yard year next Easter.
Further salt
Further salt was rubbed into the wounds with Kew Band from Melbourne directed by Mark Ford taking joint second place with Dalewool Auckland Brass. 2006 Champion, Woolston Brass from Christchurch had to be content with fourth place overall.
The only crumb of comfort for the home nation was to be had by the fact that Brisbane's overall victory was achieved without them being victorious in either the own choice or set work sections of the contest, being placed joint winners only in the Sacred Item discipline. Dalewool Auckland Brass won the set work section whilst Woolston Brass took the own choice honours with their thrilling performance of 'Vienna Nights'
Consistency
Brisbane's consistency however won the day, being placed as joint winners with Kew in the Sacred Item discipline and bagging two runners up spots in the won choice and set work sections to give them a clear cut four point wining margin over their rivals.
MD Howard Taylor told 4BR of his delight at winning the contest. "What a thrill this has been for the bands We came knowing we would have to play to the top of our form and I think we have done just that. We would have liked to have perhaps won one of the two major disciplines, but we knew it had to be a question of consistency if we were to win the contest overall, and we have done just that."
Best soloist

Excelsior's Amanda Casagrande took the Best Soloist Award for her contribution in the set work, 'Concerto No 1' and she took was a happy Aussie. "It came as a bit of a shock to win the solo award as there were so many great performances from players on the day, especially our soprano cornet player Steve Stewart from the Kirkintilloch Band who played for us here. It's the victory for the band though that is the most important thing, and we hope to be able to build on this for the future."
(Article courtesy of 4barsrest – www.4barsrest.com)