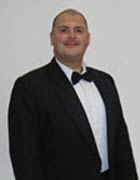 Dean Morley, Star UK BBb Bass player has arrived in Brisbane ready to settle into his new life Downunder with his partner, Julie Woods, and Brisbane Excelsior.
Dean has secured a sponsor and will commence work early in 2008 as an Engineer with a private company in Brisbane city.
The following is an extract from 4barsrest.com, 15 December 2007:
British banding is losing one of its great foundation builders to the Aussies as Dean Morley sets sail for a new life down under.
On Christmas Day, Grimethorpe Colliery tuba star Dean Morley will be leaving the UK to live in Brisbane, Australia.
This will bring an end to 22 years of top flight banding in the UK which has taken him as far afield as just about every country in Europe and to all four corners of the globe to ply his tuba trade.
National titles
Dean started his playing career at the age of 14 with Morris Motors Band in Oxford and soon joined the NYBB rising to Principal BBb bass. At 16 he joined the Desford Colliery Brass Band under Howard Snell and then James Watson, helping to win 4 Nationals in a row and countless other contest wins, before his move to Fodens.
After continued success with Fodens (including another National) he made his final transfer to Grimethorpe Colliery Band and a 220 mile round trip to band practice through wind, rain and snow.
Globe trotting
Dean continued his globe trotting with Grimethorpe and played as a guest at the New Zealand Nationals on three separate occasions.
Another couple of Nationals wins later (plus a whole bag full of other titles), Dean plays his last concert with the band at Huddersfield Town Hall this weekend.
Brisbane
When he arrives in Oz, Dean will be joining the Brisbane XLCR, the current National Champion Band of New Zealand and Australia. He will be joining his partner Julie Woods who is the Principal Eb Bass player with XLCR.