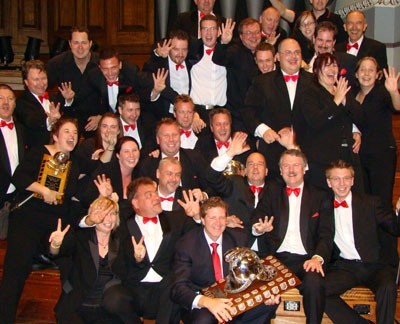 Brisbane Excelsior and its Musical Director, Howard Taylor, has been the first band in the history of brass banding to win the Australian A Grade Championship, four years in a row.
Brisbane XLCR, although it didn't win either major test piece, won the overall Australian National A Grade Championship for the fourth time in a row.
The band won the stage march playing Knight Templar, and came second in both the Own Choice (Montage by Peter Graham), and the test (Dances and Alleluia's by Philip Sparke). Its hymn tune, His Provision (Bosanko), was placed well down in the field of thirteen bands – with the adjudicator not too happy about some balance issues.
Howard Taylor said, "I am ectastic with the win and very proud to be leading such a fantastic group of committed musicians."
Band President, Rick Casagrande said, "The achievement of four national wins in a row is a direct result of Brisbane Excelsior's decision back in the late 1980's to contest at a National level, and to seek players who all had the common goal of producing the best music possible."
Having also won the 2007 New Zealand National A Grade title, the band has achieved five National titles in the space of 4 years.
Individuals who have played with XLCR for each of the four Australian titles include:
Paula Russell, cornet
Warren Brewer, cornet
Amanda Casagrande, flugel
Steve Ridler, horn
Ashley Gittins, euphonium
Stuart Bent, trombone
Michael Purtle, trombone
Trevor Stanley, trombone
Rick Casagrande, bass
Julie Woods, bass
Adrian Dadds, percussion
Bill McIntyre, percussion
This year, guest players included Brenden Wheeler, a registered member of the band who is currently Principal Euphonium with Leyland in the UK. Brenden was asked to play as the bands regular first baritone player, Brad Hosking, was unavailable for the contest.
Kevin McMorran, cornet player from New Zealand and Steve Stewart, soprano player from the Kirkintilloch band in Scotland were the bands two permit players.
The band achieved second place in the Street March led by Drum Major, Scott Fixter.
Once again – an enormous thanks to Meg Fixter, contest manager and band secretary.