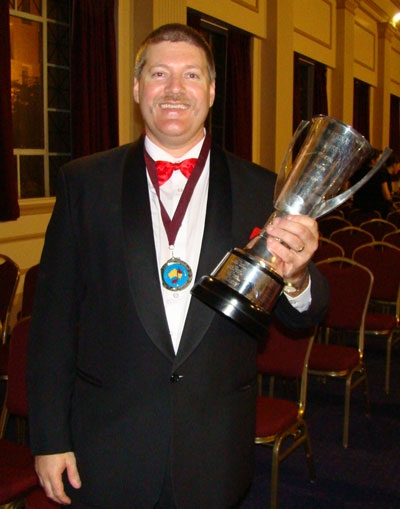 Ashley Gittins, Principal Euphonium for Brisbane Excelsior, was a clear winner in the Champion of Champions held this evening, 23 March 2008 in Brisbane City Hall.
Adjudicators Stephen Roberts from the UK and Peter Adams from New Zealand were highly impressed with the way Ashley performed Glorious Liberation – communicating and connecting with the audience, with musicianship and command.
Performing entirely from memory, Ashley played with enormous emotion and sensitivity.
Acknowledgment must also be paid to accompanist, Mitchell Leigh who, together with Ashley, delivered such a magnificent performance.
This is what Ashley had to say on the brass band forum 'spitvalve':
Thanks to all the well-wishers and it was great to have the chance to chat to so many people accross the course of the weekend.
I'd like to take this chance to answer the FAQ of my life in recent times i.e. "I thought you'd retired, what's going on?" And "I thought you'd gone all religous" The following may pass as a blog but I'll try and be brief.
I did intend to keep away from the banding scene and very much enjoyed my 7 month holiday BUT also missed my XLCR mates incredibly and when I was asked to come back, had a hard decision to make. I was looking into some conducting opportunities and thought my future may lie in that direction.
It was really only on Sunday morning that I knew for sure that I had made the right decision. It's not, strangely enough, about the music or the relationships even: for me it's a matter of "His Provision" (not the piece, the concept of guidance and the way things come together to serve a better purpose. I feel in fact that I am 'meant' to be with XLCR and that what I do can honour God if I give of myself in the right way) I promise to never become a wowser and I won't be preaching any sermons any time soon but……..
As I stood on stage last night at the COC's. my early nervous jitters vanished when I got to the main theme of piece (Glorious Liberation) when the words from the old Salvo song emerged from somewhere in my childhood memory:
"I give my all to Jesus
He has seen
How my Heart desires
To be clean
Nothing at His altar I withold
when His cross of suffering I behold
And the fire descending Brings to me
Liberty"
From then on, I was just on a 'high' and enjoyed every minute of sharing with everyone present.
It was a great weekend for the band and certainly for me personally but all of this is insignificant compared to my new realisation on Sunday morning that HE IS RISEN!
So… I am not a nut bag and it's not contagious (although I really hope I'm wrong about that). Special thanks to Brian and Steve and Rodney for your support in things spiritual and to Howard and Trevor for the musical and practical help and guidance.
And one thing more I perhaps shouldn't say but that I want to mention without specifics – the incredible generosity of Rick and Amanda Casagrande, without whom I literally would not be able to do what I do.