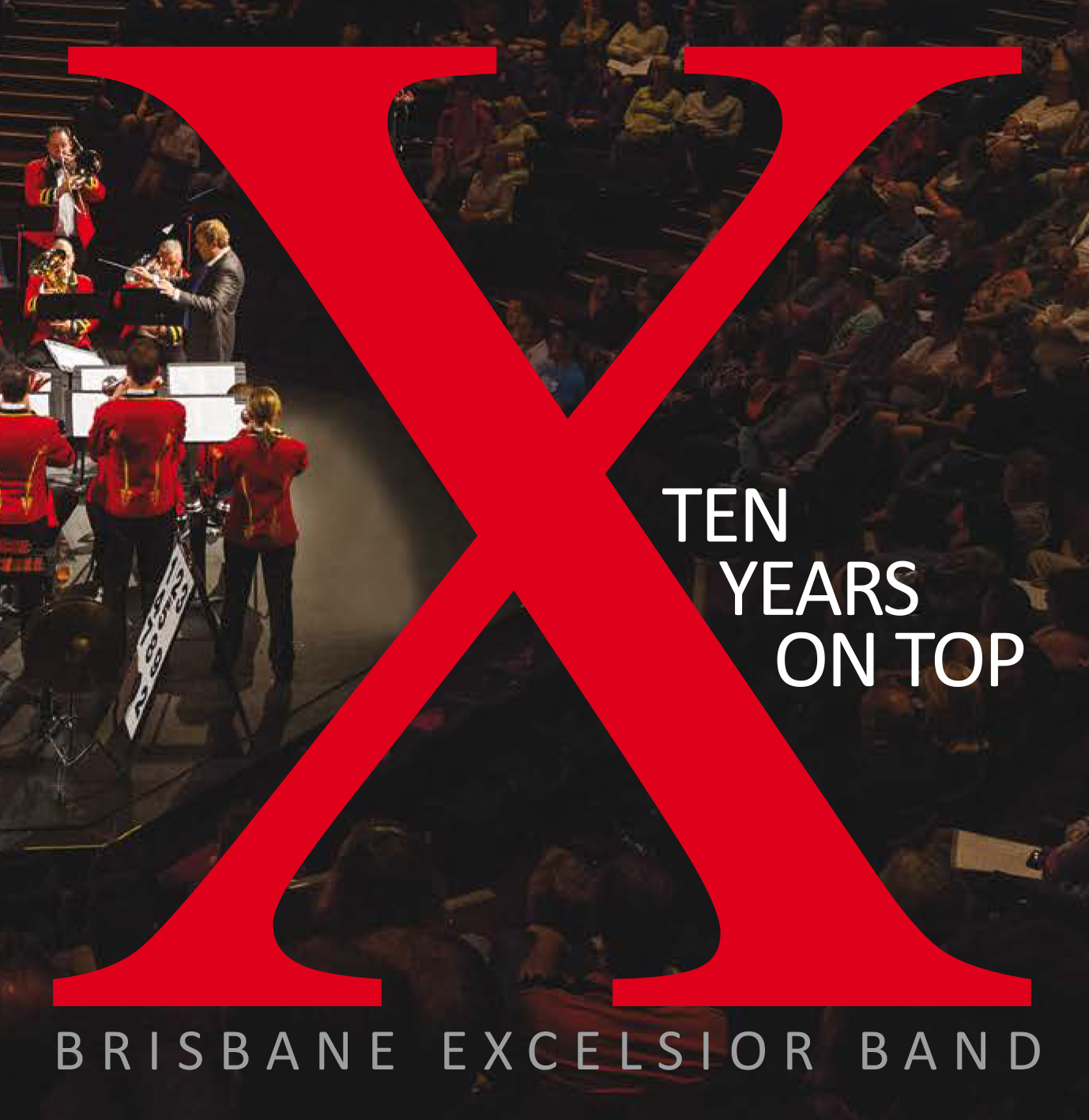 Ten Years on Top – Brisbane Excelsior Band
The last ten years has seen unprecedented success from Howard Taylor and the Brisbane Excelsior Band. The Band is 100 years old, but the last decade has certainly been the halcyon period in their history winning eight Australian Championships and two New Zealand Championships as well as great performances in the UK. The Band is recognised as the finest Band in the Southern Hemisphere, and I would suggest, "one of the finest bands in the world."
To mark this unrivalled period of dominance in the contest field they have released a CD recording "Ten Years on Top" and it's a real trailblazer, featuring some historic performances from the past (From Ancient Times – Jan Van Der Roost, live from 2013 Nationals) and several looking towards the future.
Ten Years on Top begins with Stephen Roberts' Another Opening Another Show and sets the scene for a 'high -octane' precise and musical performance that permeates the whole recording!
There are wonderful solo contributions from Paula Russell (Cornet) Jamie Brown (Soprano) Amanda Casagrande (Flugel Horn) Nigel John (Euphonium) and Chrislyn Hamilton (Voice) the latter proving to be a real contrast and a master stroke of programming by Howard Taylor! Special mention must be given to the Nigel John whose silk-like golden tone is only matched by his effortless technique in Phillip Sparke's Pantomime (a piece I know quite well!).
Other works that are featured include: two marches, The Jaguar – Goff Richards and Melody Shop – KL King, both played with pizzazz and fizz. There are a handful of beautiful lyrical pieces, Candle of the Lord – Joy Webb, Abide with Me – WH Monk, and The Pilgrim's Prayer – Eric Ball that pull on the heart strings and ably demonstrate the delicacy and finesse which Howard Taylor extrapolates from this fine musical unit. Abide with Me gave me goose-bumps all over whilst absorbing the pure tone quality and perfect balance which Karl Jenkins demands from this super arrangement. Other notable performances featured within include: Phoenix from War of the Worlds by Peter Graham, The Catskills from East Coast Pictures by Nigel Hess and the gigantic most technically demanding piece ever written for brass band, From Ancient Times by Belgian composer Jan Van Der Roost. If anyone is looking for proof that Brisbane Excelsior has out-grown the Southern Hemisphere this performance is it!! Technically perfect and musically sublime, the solo playing is outstanding and the interpretation by Howard Taylor is spot-on.
I unreservedly recommend this CD to the brass band community and ask the question why we don't see Howard Taylor and Brisbane Excelsior Band as guests at the British Open and European Championships. Their standard of performance would enhance both events and push other ensembles to an even higher standard.
Dr Robert Childs
ARCM (hons) FLCM (dist) FRWCM M.Mus (dist) PGCE (dist) DMA