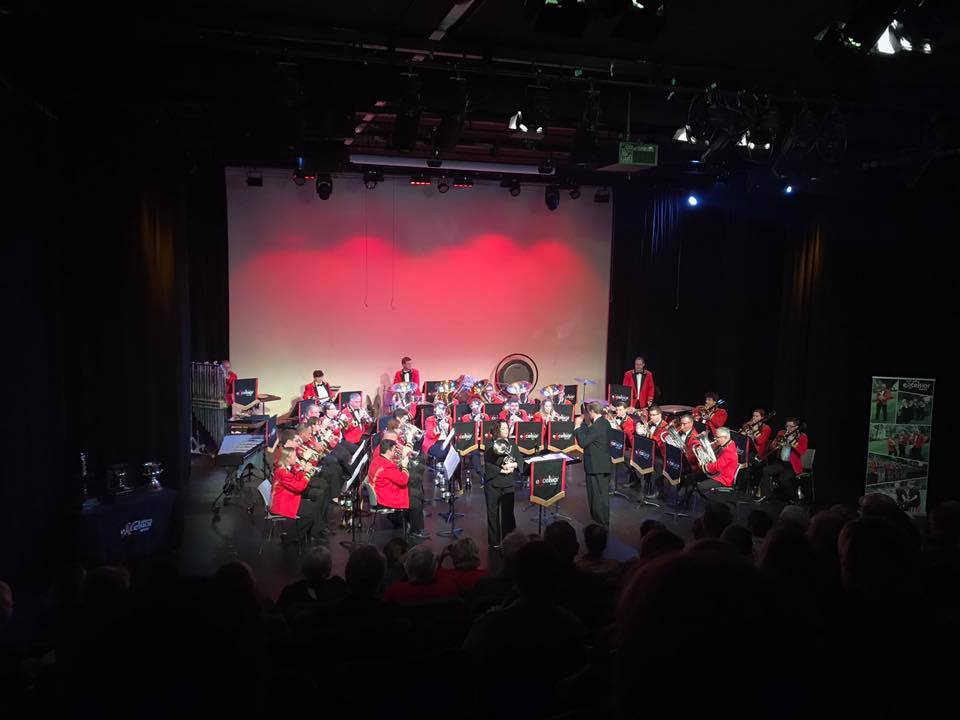 The dust has well and truly settled on what could only be described as an impeccable night of music-making with world-class tenor horn Virtuoso and all-round-lovely-lady Sheona White.
The band prepared diligently for this concert – the 2nd in our concert series for the year – with the intention of showing Sheona that we were truly worthy of our recent New Zealand victory. It was the Thursday night rehearsal that dumb-founded us all, as we got through all of Sheona's 8 solos or duets in record time and with relative ease – so much so that Howard had time to fill in between just to give her a little bit of a rest!
Our first performance at the Queensland Multicultural Centre went particularly smoothly, even though the auditorium had an extremely dry acoustic, where it felt like you were playing on your own! The band opened with the Australian premiere of Solo Horn player Benjamin Tubb-Hearne's 'Launch' before steam rolling into 'Where Eagles Sing' by Paul Lovatt-Cooper.
It was at this point that we first introduced Sheona White, who performed Kenneth Downie's 'The Piper of Dundee', with much aplomb, before giving a heart-wrenching performance of Hugh Nash's 'Demelza' – a melody that is close to the heart of our conductor, Howard Taylor.
The band came back to the forefront with an energetic performance of 'Comedy Tonight', where we're pretty sure that the percussion section used everything they could get their hands on.
Dale Hosking, the current Queensland Champion of Champions led us on with a beautiful reading of Goff Richard's 'Pastorale', before Sheona returned to cement her place as one of the best tenor horn players in the world with every horn player's go-to solo: 'Capriccio Brillante'.
Closing the first half saw two performances that featured tenor horn and baritone horn, the first being a performance of a highly underrated piece of music from the pen of John Golland: 'Meiso', which was originally written for the Black Dyke tour of Japan in the early 1990s. This concert saw our baritone superstar Ross Moloney join Sheona to perform this hauntingly beautiful duet that truly tests both the soloists (not that you'd ever tell!). The half ended with Philip Sparke's suite from Hymn of the Highlands, ended in darkness for special effect.
The 2nd half opened at lightning speed with Mark Freeh's whirlwind arrangement of 'Malaguena', before leading to a performance of a piece that nearly every bandsman has played in their life – 'A Disney Fantasy'. The band's set finished with a gorgeous Tongan hymn – one that the band had performed recently in collaboration with the Park Tonga Brass Band at Mt. Coot-tha Botanical Gardens.
We were extremely happy to welcome Sheona White back to the stage to perform a relatively new work for the tenor horn written by Christopher Bond entitled 'A New Dawn'. This was a piece that despite how 'easy' it may sound, it extremely demanding in terms of technique, dexterity and range, and it was quite the treat for the audience and bandsmen alike.
At this point of the evening Brisbane XLCR's solo horn player, Benjamin Tubb-Hearne, joined Sheona on stage to play Bizet's 'Deep Inside the Sacred Temple from the Pearl Fishers', something that you don't hear very often, especially played on tenor horns! The sound was sweet and it was a lovely rendition from both of the players!
The band followed with Alan Catherall's arrangement of 'Batman: The Movie', before a moving tribute to the victims of the recent Manchester Bombing with Andi Cook's arrangement of 'Manchester', where all the profits from the sheet music go towards helping the victims recover their lives.
Our last treat from Sheona was from the pen of Philip Sparke, who wrote 'Aria' for her after listening to her perform during one of his record producing sessions. It was clear that Sheona loved performing this piece and you could hear a pin-drop after her final note – the audience not knowing whether or not they should clap yet! The band finished with a classic: 'Treasure of Tchaikovsky', before thanking Sheona for what could only be described as a monumental evening of masterful music making.
Thank you to everyone who came along and supported the band, the volunteers from both within the organization and outside and of course Sheona, for just exuding class – it will be hard to forget this concert!